United Nations Sustainable Development Goals: Zero Hunger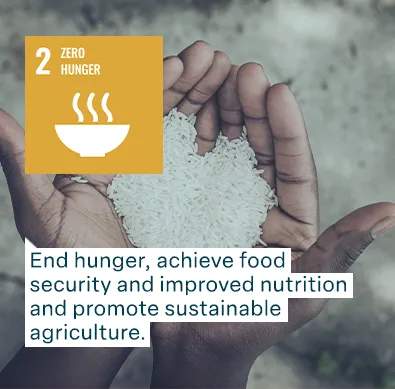 ASCENZA's mission is to feed a growing world population, using healthy and safe solutions and enabling balanced and sustainable agriculture. 
As part of the Rovensa Group, it is our goal to shape the way farmers can do more with less, offering better products to consumers every day.  
We work towards this mission every day - so that we can develop a portfolio of innovative solutions that meet this and other challenges faced by our farmers.
Lower Risk Solutions
To promote the increased use of alternative ways of protecting crops from pests and diseases, we have invested in lower-risk solutions, reducing the quantities of active substances in plant protection, and incorporating bioprotection products into our portfolio.
Well Balanced Portfolio
Being a farmer today is probably the most exciting activity on earth and it has never been so challenging, as we will need to feed a growing population and take care of our planet. ASCENZA is bringing in the next years, a portfolio of solutions to overcome those challenges and provide a product range that fits farmers' needs on plant care and sustainability. 
That's why we're developing different technologies in our formulations to be more efficient, providing a greater degree of pest control than what would be expected. These technologies facilitate the action of the active substances or modify the characteristics of the formulations or spray solutions.
Infobox text
Also as a result of this path, the Blexia brand was born. A range of products that responds to the needs of our customers, producers and all stakeholders on contributing to the global food supply.
Blexia - BioProtection by ASCENZA
Today in the EU, where regulations are increasingly restrictive, our integrated solutions - conventional solutions combined with bio protection products - are crucial for ensuring that we are compliant and offer products that contribute to customers' needs for low residues and low environmental impact and that we overcome regulatory restrictions.
ASCENZA bioprotection family products
The Blexia brand has emerged to meet customer, grower and all stakeholder needs in contributing to the global food supply. These are innovative products, used as part of integrated disease and pest management systems, which help ensure a low environmental impact while maintaining crop yields
Here we highlight the benefits of Blexia's products:
Ideal for resistance management.

Allow a reduction in the chemical load of traditional crop protection products.

100% natural or circular.

Safe to users and the environment.

No MRL's or compliant with low residue programmes.

Correspond to food chain requests for sustainability.

IPM (Integrated Pest Management) is compatible with crop programmes.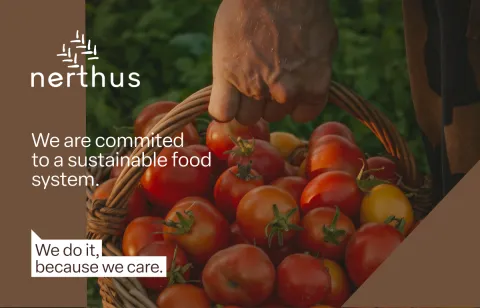 We are committed to a sustainable food system.
Farm to Fork is part of the European Commission's strategy to accelerate the transition to a sustainable, fair, healthy and greener food system. As a stakeholder in this sector supporting farmers and food production, at ASCENZA we are committed to our role in the European Commission's ambitions to continuously find sustainable solutions. For this reason, we also want to provide more information on what and where Farm to Fork is leading us.
United Nations Sustainable Development Goals: Life on Land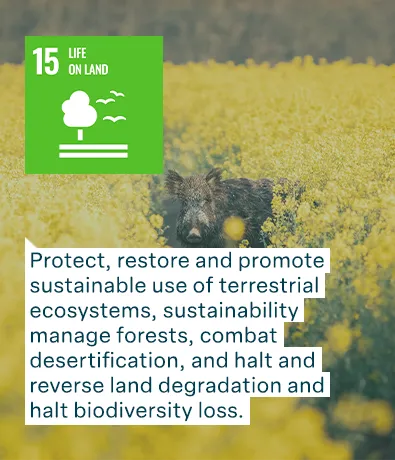 We are focusing our R&D efforts on reducing the negative impacts of our portfolio on the environment and biodiversity, while contributing to improve plant and soil health. We are monitoring our operations in regard to their impact on the biodiversity of protected areas.
At ASCENZA we are aware of the environmental impact of our activity, and that's why we carry out several projects, inside and outside the organisation, designed to help us reduce the ecological footprint and take care of the planet.
Water Management
RAINWATER TREATMENT
Our plant is located in the Reserva Natural do Estuário do Sado (RNES) - a protected area for its avifauna biodiversity. To help preserve this delicate environment, we have installed a rainwater collection system that allows us to contain and monitor rainwater and detect any harmful active substances, thus ensuring safe treatment and discharge.
We also carry out regular measurements of these substances in the waters of the Sado estuary.

This results in the prevention of any environmental impact related to these discharges in the natural receiving environment.
At ASCENZA, we are committed to environmental protection and preservation, namely by supporting education and research.
ASCENZA actively engages in collaboration with several research and development institutions to gain the necessary knowledge to develop more environmentally friendly and effective products and to streamline product development and registration.
In this respect, we support MSc and PhD students that perform their R&D activities both in our laboratory facilities and in the facilities at universities and R&D centres.
Over the past 5 years, ASCENZA participated in several R&D projects, in which the partnership with academia allowed us to gain knowledge to address some of our challenges and to define effective strategies to circumvent this issue in the near future.
ASCENZA offers training to farmers and technicians on biodiversity and agro-ecosystem values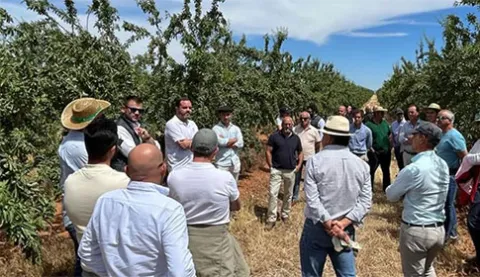 ASCENZA collaborates with experts from associations and research centres to establish training events related to sustainable agricultural practices.

With these activities, ASCENZA aims to train stakeholders in Spain by providing knowledge about good agricultural practices and sustainable agriculture.

From 2022 to 2023, more than 250 advisors were trained in sustainability practices such as soil health, water stewardship, biodiversity, best practices to contribute to fixing carbon from the atmosphere in soils, etc.

Also, as an example, we held a training on Cover Crops in Woody crops for distributors and farmers to learn the benefits of this practice and how to do it.
United Nations Sustainable Development Goals: Climate Action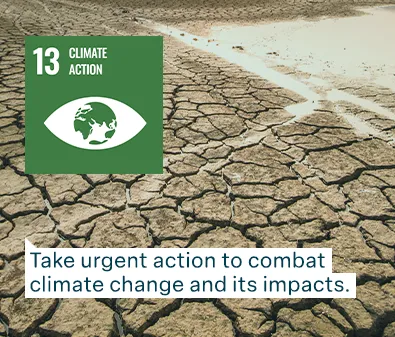 Net Zero
We have developed a Net Zero Roadmap that includes initiatives to improve the eco-efficiency of our operations and supply chain and enable us to decarbonise our activities. We are also in the process of aligning our existing decarbonisation targets with the latest climate reports, in accordance with the Paris Agreement's 1.5 oC threshold.
Thus, ASCENZA is working to end the use of gas, promote energy efficiency and install renewable energy sources in its industrial plant in Setúbal, Portugal.
So far:
our industrial plants have currently replaced lighting equipment with LED technology.

since June 2022, the forklift fleet of the plant is 100% electric.

we have implemented the Zero Gas Project which includes the implementation of measures based on introducing energy efficiency, upgrading technological supplies, and implementing renewable energy sources. This project will lead to a reduction of the company's carbon footprint by about 40% (660 tCO 2e).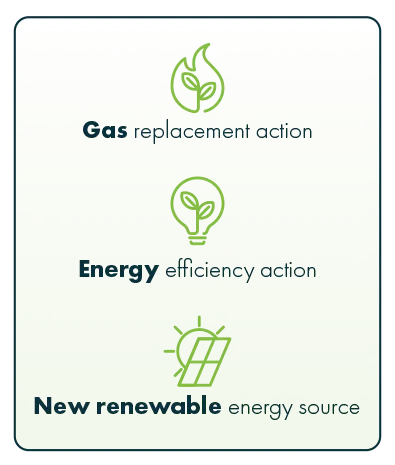 United Nations Sustainable Development Goals: Responsible Consumption and Production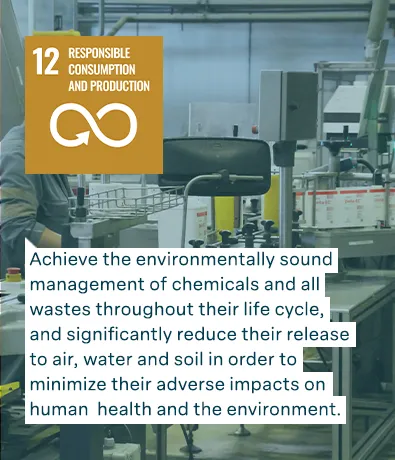 ASCENZA is committed to promoting effective stewardship in and beyond the field. By providing our stakeholders with the required know-how to do a correct use of our products, we are reinforcing our commitment towards sustainability by reducing the impact of plant protection products on the environment and promoting the safety and health of farmers and consumers.
REUSE OF WASHING LIQUIDS
Also, at our plant in Setúbal, the washing water from industrial equipment is reused in future formulations of the same product.
This allows for a reduction in the amount of wastewater and reduces freshwater consumption.
We have also invested in more efficient equipment for washing industrial equipment, which has enabled a reduction in water per wash.
The cleaning process was also analysed, and the minimum amount of water required for an efficient wash was determined (the minimum amount required to avoid cross-contamination between different formulations).
All these actions contributed to minimising water consumption, reducing waste, and saving costs by incorporating washing water into the formulations.
easyconnect CTS
easyconnect is a Closed Transfer System (CTS) that makes filling your sprayer faster, easier, and safer than conventional methods.
At ASCENZA we are committed to supporting innovative solutions to increase the safety of both farmers and the environment in the use of Crop Protection Products.
For this purpose, we are partnering with a group of leaders in the farming sector so that together we can contribute to even safer agriculture.
This system consists of two components: a unique cap – which is pre-fitted onto the containers – and a coupler. Together, they can save you time and effort when filling your sprayer, while significantly reducing the operator's exposure and the risk of spills.
Find out more about easyconnect.
PACKAGING COLLECTION FOR RECYCLING
Plastic is a threat to the health of the planet, particularly to our oceans.
The use of this material is becoming unsustainable due to the harmful effects it brings to the environmental balance and, in just five years, the presence of plastic in the ocean has become a global concern that has led to several initiatives aimed at reducing plastic use worldwide.
ASCENZA does not want to be left out of this challenge and has also started to do its part implementing in its facilities effective waste management systems, including proper disposal and recycling facilities and waste collection programs such as the initiative Olga, the Oyster, designed to promote and reinforce the commitment towards a more sustainable management of the waste generated in our various activities at the company.
CONTAINER MANAGEMENT SCHEME
A container management scheme can minimise these risks and is part of the "life-cycle concept", as addressed in the International Code of Conduct on the Distribution and Use of Pesticides.
Depending on the country, the container management scheme can be voluntary or mandatory. It is a normal practice to appoint a legal entity to administer it. In many of the existing schemes operating around the world, the administrative body is a non-profit company established and funded by pesticide suppliers.
At ASCENZA we also work with several organisations, in the countries where we operate, to develop strategies to improve container collection.
The collection percentages in 2022 were as follows: 92% in Brazil, 78% in France, 71% in Spain and 60% in Portugal. 100% of these recovered plastic containers have been recycled.
ASCENZA is committed to further increasing these percentages in the following campaigns.
ENSURING THE SAFE AND EFFICIENT USE OF OUR PRODUCTS
Using plant protection products in a safe and correct way is crucial to minimise not only health risks for the farmers but also the environmental risks that can arise from incorrect use of the products. With this in mind, we organise training sessions in Spain, to share good agricultural practices that help to reduce the product application drift to adjacent water basins and/or fields, respect the use rates and guarantee that the product achieves the target weed, pest or disease.
The training is performed in partnership with researchers from the Agricultural Mechanization Unit (UMA) of the Polytechnic University of Catalonia (UPC) with whom ASCENZA intends to train 100% of its distribution with demonstrations in different crops in 2030. From 2022 to 2023, more than 100  advisors and operators were trained and 34% of our distributors participated in the training. 
Discover more about Nerthus Programme: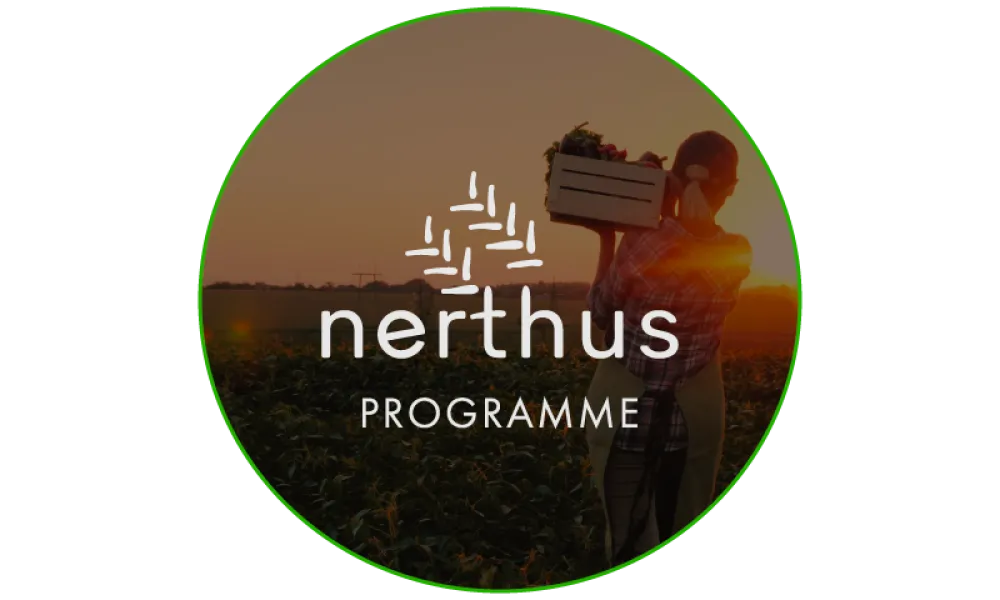 This programme acts toward Plants, People, and Planet, across two major drivers: stewardship and sustainability. Discover how.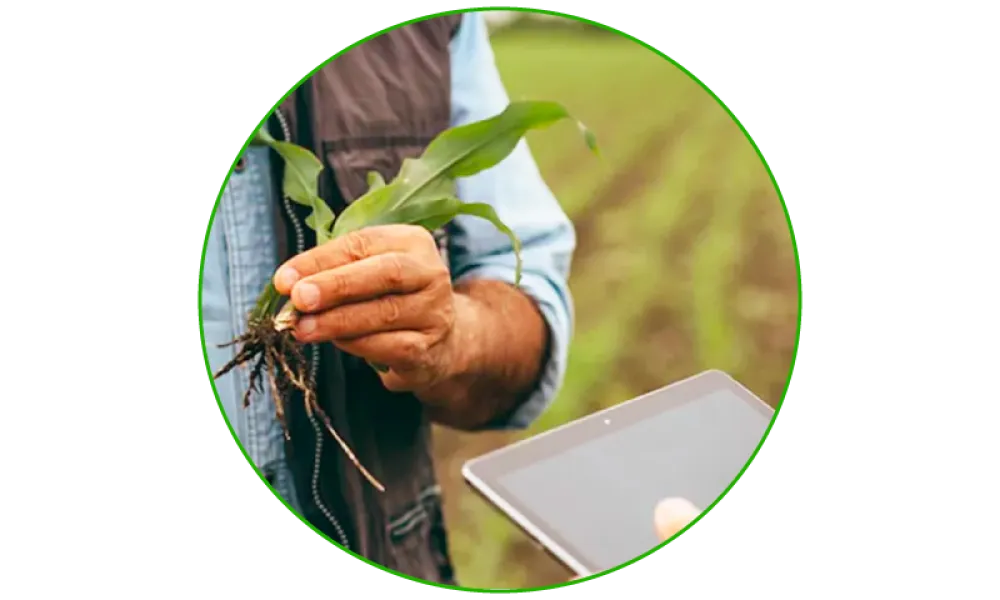 Learn how to use a plant protection product within the framework of Integrated Pest Management- a term describing the multidimensional approach to managing pests, diseases and weeds.