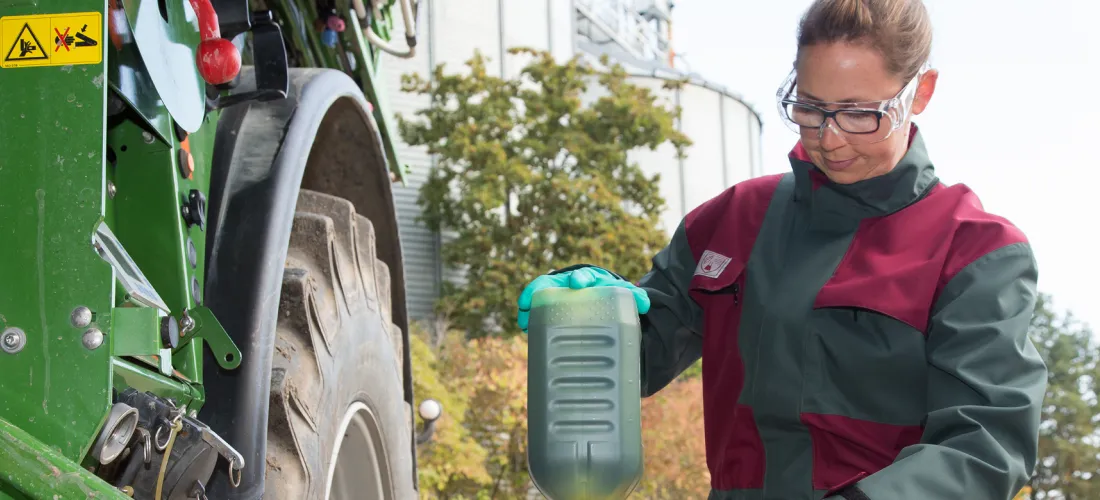 easyconnect Closed Transfer System wins award for consumer benefit and convenience
The easyconnect Closed Transfer System (CTS) wins the Pack the Future Award for sustainable packaging innovations in the category Design for Consumer Benefit and Convenience on 09th May 2023 during the interpack trade fair in Düsseldorf, Germany. The award is presented by the IK German Association for Plastics Packaging and its French partner ELIPSO. It honours innovative and sustainable packaging solutions made of plastic and their contribution to climate protection and circular economy.
The easyconnect CTS is a hardware for farmers that makes filling their spray tank faster, easier and safer than conventional methods. The system consists of two components: a unique cap made of recyclable plastic – pre-fitted on the product containers – and a coupler. Together they establish a closed system to transfer liquid crop protection products from the product container directly into the spray tank. It is designed to provide farmers with a compelling combination of convenience and safety.
We are very pleased that the easyconnect system has won the award, especially in the category of consumer benefit and convenience. The ease of use of easyconnect was always a central point and prerequisite in the development. We have paid attention to numerous details that relieve our customers of several work steps like no more unscrewing of the closure, no foil seal to be opened, simple connecting to the coupler, easy resealing and even automated cleaning of the cap after emptying the canister – that makes the joint recycling of cap and container easily possible and will increase the rate of recycled caps which improves their environmental impact.
Robert Huber, steering team member of the easyconnect CTS Working Group
All agricultural industry leaders in Europe join forces in the easyconnect CTS Working Group (ECWG) to offer farmers a broad choice of products that are all compatible with the easyconnect system.
The first products equipped with the innovative easyconnect cap are just being introduced in the European market.