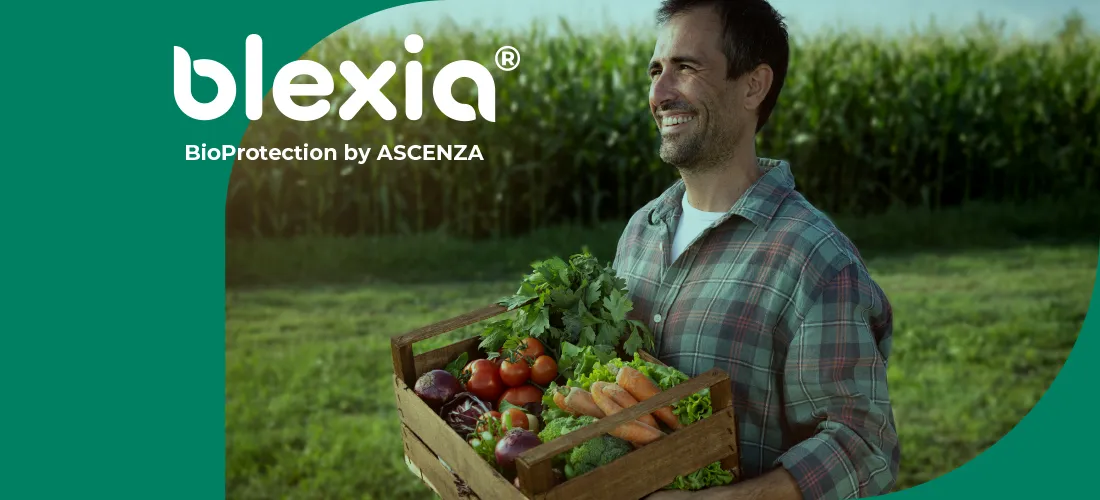 Bio-protection, natural solutions.
Thanks to products of natural origin, bio-protection makes it possible to maintain yields while having as neutral an environmental impact as possible. Ascenza is deploying this innovative offer to support growers in their drive for greater profitability, less environmental impact, and a better response to consumer expectations.
With its Blexia range, Ascenza meets producers' needs, consumers' expectations, and environmental requirements. These products are fully in line with the Green Deal and the European "Farm to Fork" strategy, to produce healthy, high-quality food using innovative, effective products with less environmental impact.
Bio-protection reduces the use of plant protection products.
Bio-protection solutions offer several advantages for producers. Starting with residue management! Integrated solutions, which combine conventional products and bio-protection solutions, are essential to reduce the doses of products derived from synthetic chemistry and thus ensure compliance with product specifications, without compromising the effectiveness of the programmes.
User, environment, consumer: all part of the same health system!
Bio-protection offers another major advantage for the natural environment: the management of resistance phenomena. By alternating modes of action and incorporating solutions of natural origin, bio-protection limits the emergence of resistance in the natural environment. In addition, the natural origin of each product enables Ascenza to guarantee safe production for both users and the environment.
Integrated management programme.
With an innovative portfolio inspired by nature, Ascenza is diversifying its range and preparing for the future of all types of farming. Used as part of integrated disease and pest management programmes, bio-protection solutions meet growers' needs to maintain yields, while guaranteeing a low environmental impact.
All products in the Blexia range are compatible with IPM (Integrated Pest Management) programes.
Products in the Blexia range.
The Blexia range dedicated to bio-protection currently comprises six products, four basic substances and two biocontrol's and it's available in the European market: 
CARPET®, 
EQUISET®, 
PREVATECT®, 
VALESCO®, 
DOCTRIN®, 
PREV-AM® Ultra
Find them on your market's website: